Profile of Hiroyuki Kawai
Lawyer/filmmaker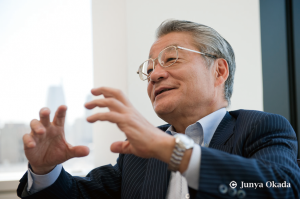 Kawai was born in Manchuria, then under Japanese occupation, in Northeast China in 1944.
One year later, Kawai's family had to flee back to Japan, almost being caught between Chinese irregulars and an invading Soviet army.
Their journey to Japan was very difficult.

Kawai's younger brother, just a few months old, died of starvation and Kawai himself narrowly avoided the same fate.

Probably this terrible experience explains why Kawai sometimes feels terrified, as though he is standing on the edge of a precipice. It certainly helps to explain his desire to assist those in need whenever possible.
Kawai's vision of his life's purpose:
1.     to broaden awareness of corporate social responsibility and compliance,
2.     to protect the environment of the planet as an advocate for future generations; especially to avoid poisoning by nuclear disasters,
3.     to help people in need.
Kawai's hobbies:
1.     Singing as a tenor in Rokudan, a men's chorus. Recently this group performed a musical in Orchard Hall, a famous venue in Japan. In the musical, Kawai played an important role as a comedian. A former Prime Minister and famous political and business identities also performed as members of Rokudan.
2.     Playing traditional performances of Noh, in the Kanze style.
3.     Riding a Harley-Davidson.
Kawai's Motto:
If you give 100%, you can achieve almost anything.
If you give 100%, you will find anything enjoyable.
If you give 100%, somebody will offer you their hand.
Kawai's history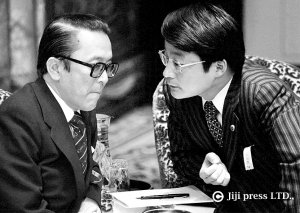 In 1978, a major scandal came to light concerning illegal payments by McDonnell Douglas.
It followed investigations into the Lockheed bribery scandals of 1976 which showed politicians in a bad light.
Some politicians, including two former PMs and one who became PM later, were involved in the McDonnell Douglas scandal.
In the subsequent enquiry, key persons were summoned as sworn witnesses before the Diet. Each witness could be accompanied by a lawyer as advisor. Kawai became the adviser of a witness from the aircraft department of the Nissho Iwai Corporation.
The quality of the advice given by Kawai to the witness was such that the witness was exonerated and Kawai himself became very well regarded. Legal work relating to corporate acquisitions, especially concerning hostile takeovers, came flooding into Kawai's office. Kawai created a remarkable record by winning very high-profile cases, often against giant corporations.


In 1989, Kawai was an advisor for Kobayashi, the president of Shuwa Corporation, a Japanese real estate giant. When Kobayashi tried to take over two retailers, Chujitsuya Co. and Inageya Co., he faced opposition from these companies.
In a famous case, Kawai showed that an attempt to dilute Shuwa's holdings in these companies, by issuing and exchanging new shares between the retailers at heavily discounted rates, was grossly unfair to normal shareholders.
The key to success in this case was evidence from a bar hostess in Ginza who, as an ordinary shareholder, had paid ¥5,000 for a share while the retailers were exchanging shares between themselves for only ¥1,200 This case had a major influence on the Japanese Stock Market.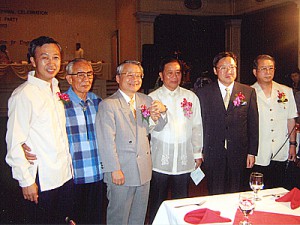 In addition to these high-profile court cases, Kawai's humanitarian work must not be forgotten.

His support of many Japanese war orphans left behind in China and Philippines is an example. Some 1250 war orphans in China and 140 in the Philippines have been registered as Japanese nationals.
Kawai established support centers for each using his own money, to help returning orphans to adjust to life in Japan.

Almost all orphans had difficulties in maintaining steady employment and joining local communities due to language and educational differences. These centers assist with learning language and other skills, and in providing support networks for returned orphans.


Anti-nuclear actions of Kawai and making a movie
Kawai became involved with lawsuits against nuclear power plants from 1994. The first suit concerned use of MOX fuel in the Fukushima No.1 Reactor 3 that exploded in March 2011. This suit failed, as have many more since that time.
Ever a shrewd lawyer, Kawai was losing his passion to continue such lawsuits just before the FUKUSHIMA accident. The Great East Japan Earthquake rekindled this passion and Kawai has said "I will never give it up. I will continue lawsuits against nuclear plants until nuclear power is eradicated from Japan".
As part of this process, Kawai decided to make a movie. Explaining this, he said "in a democracy, a fair legal process is obviously important to protect our rights, especially for minority issues.
Lawsuits in a democracy functions as safety valves.
Justice is justice. I shall stand up to protect life and Japan in courts, even if I would be alone.
But to share the idea of nuclear zero nationwide, we need a movie".



Written on February 2nd 2015
Background, references
War orphans:
http://www.japantimes.co.jp/news/2007/08/16/reference/special-presentations/war-orphan-recounts-feeling-of-abandonment/#.VMs7dmisV8E
http://en.wikipedia.org/wiki/Japanese_orphans_in_China
Philippine Nikkei-jin Legal Support Center:
Kanze Noh Theater:
http://www.gotokyo.org/en/kanko/shibuya/spot/s_512.html
Douglas Grumman scandals:
http://www.fundinguniverse.com/company-histories/nissho-iwai-k-k-history/
About the Shuwa Case:
http://articles.latimes.com/1989-07-27/business/fi-253_1_business-ties